District 15 doesn't need the money
October 15, 2010
What's the bottom line on the bond referendum? District 15 doesn't need the money...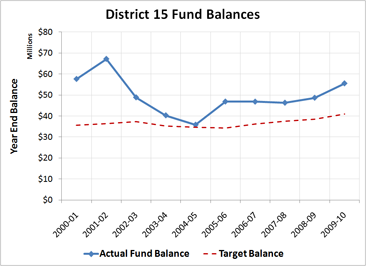 Click for a
PDF version of this chart
District 15 had a fund balance of $55.5 million at the end of the fiscal year that ended June 30, 2010 (see blue line in the chart on the right). But the Board-approved target is to maintain a fund balance that is 30% of expenditures, which means the target balance would be $41.0 million (the red dashed line). So District 15 already has excess reserves of $14.5 million more than its targeted level.
If the Board decides that some of the $16 million project list is urgent and important, there is more than enough money available to approve urgent projects now.
But not everything is rosy. Long term forecasts this year have shown 5-year deficits of $25 million or $55 million depending on which forecast you believe. The District Board and Administration should start working now to fix this long-term problem.
In the short-term the District does not need any more money, let alone the $27 million that would be authorized if the Bond Referendum is approved by voters.
Vote No to the bond referendum in November and tell the District 15 Board and Interim Superintendent Thompson that you want a plan for a balanced budget without raising taxes.
– Scott Herr